WilliNet to stream & broadcast "Claiming Williams" Morning (11:00am) & Evening (7:30pm) Keynote Addresses on Thu. Feb. 2.
The EVENING KEYNOTE with Imani Perry: "South to America: A Journey Below the Mason Dixon to Understand the Soul of a Nation streams here on willinet.org at 7:30 p.m, THU, FEB. 2.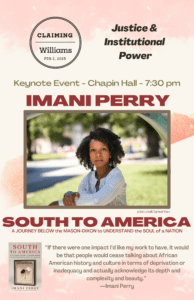 Arshay Cooper is a rower, author, the protagonist of the documentary A MOST BEAUTIFUL THING- about the first African-American rowing high school team from Chicago's West Side. Watch his Keynote Address, streaming here on willinet.org & broadcast of Spectrum tv channel 1303 at 11:00am THU FEB 2.