WHM Presents: "A Conversation about Stories, Told, Revised, and Retold" at 11am, Sat, April 9 at the Milne Public Library.
The W'town Historical Museum invites all to free panel discussion moderated by Charles Dew with speakers Frances Jones-Sneed, Tom Ostheimer, Kathleen Morris. For more info:  Williamstown Historical Museum.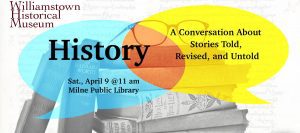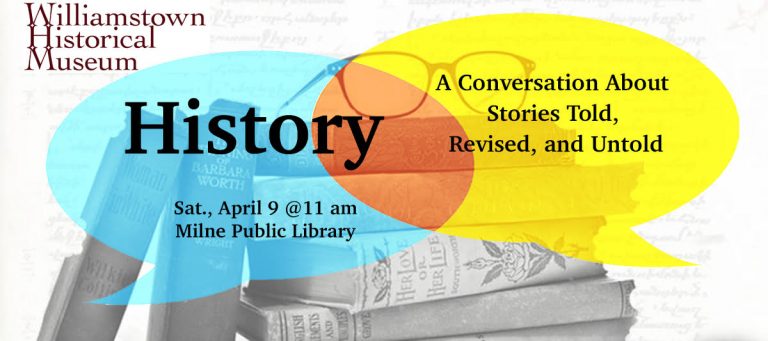 The three participating panelists and moderator are long time area educator/scholars who will discuss both their particular current projects as well as the broader question of why understanding history is valuable and how and why such stories are told, revised, and retold.
Participating panelists are: Frances Jones-Sneed, professor Emeritus of history at Massachusetts College of Liberal Arts, North Adams; Thomas Ostheimer, Mt. Greylock Regional School social studies teacher, and Kathleen M. Morris, Marx Director of Collections and Exhibitions and Curator of Decorative Arts at the Clark Art Institute, Williamstown.
The panel will be moderated by, Charles B. Dew, Ephraim Williams Professor of American History Emeritus at Williams College.
The Milne Public Library is located at 1095 Main Street, on the south side of Field Park at the northern junction of Routes 2 & 7 in Williamstown. Ample parking is available and the building is handicap accessible.