W'town Farmers Market every Saturday- 9:00 am – 1:00 pm at the bottom of Spring St.
For more info: williamstownfarmersmarket.org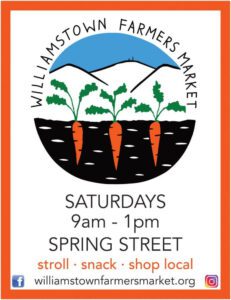 Williamstown Memorial Day Parade & Memorial Ceremony on Monday, May 29 at 11am. 
The Parade will start at the bottom of Spring Street & proceed up to Rt 2 & on to the Field Park followed by  a memorial ceremony in Field Park led by the Williamstown American Legion Post 152.
LOCAL ARTISTS: Call for your ART! Submit your work for the "Eyes on Art Town" 'banner exhibition' down Spring St & Latham St.
Artists and community members are encouraged to submit artwork for the Eyes on Art Town banner call.The Williamstown Cultural District will showcase local artwork in a banner exhibition in Downtown Williamstown this fall. Selected art will be reproduced on vertical banners hung on utility poles along Spring and Latham Streets.  CALL FOR ART: Eyes On Art TownDeadline: July 1, 2023Visit DestinationWilliamstown.org/eyes-on-art-town-call-for-art/ for submission form and more information.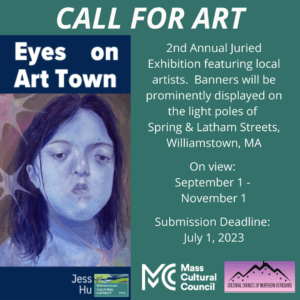 W'town Historical Museum CELEBRITY BARTENDER FUNDRAISER on Fri, May 26, 5-8pm at The Log
TIP BIG the Celebrity Bartenders & support W'town Historical Museum! Pouring from 5-6pm: Dave Moresi & Hugh Daley! 6-7:00pm: Elinor Goodwin & Cristina Stuebner! 7-8:00pm: Jeff Stripp & Dave Armet!  Fun fundraiser at The Log/ Ramuntos on Spring St. 5-8pm FRI, MAY 26!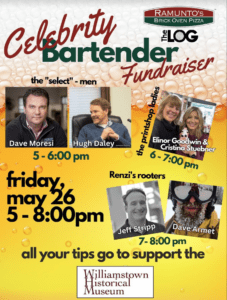 Celebrating the Civic Season w/ a Town Meeting Marathon: 1999-2022!
Back-to-back broadcasts of 23 years of Town Meetings! Repeated 24/7, Election Day – Town Meeting Day on TV ch 1302…Stream here on willinet.org 11pm-7am … Schedule your own marathon HERE!
Celebrating Citizenship .. Volunteering .. Community Service!  Remember all the Recipients (1982-2022) of the Scarborough Citizenship Award winners & the Community Chest Good Citizen/Volunteer of the Year Award & since 2016 the Scarborough Salomon Flynt Community Service Award!