W'town institutes non-essential outdoor water ban use
Gina Coleman & Albert Cummings sing their blues Sunday, 8:30pm May 30 on Live at the Linda.
Hometown talent Gina Coleman & Albert Cummings share their blues 8:30pm, Sunday, May 30 on Live at the Linda on WAMC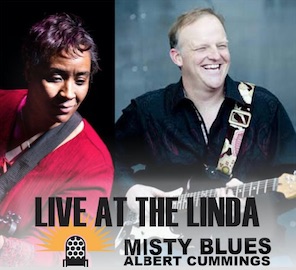 Williams College Senior Celebration will be broadcast live on WilliNet TV ch 1303- 11:30am-1:30pm Mon, May 31
Williams College announced that the public health outlook has allowed an in-person senior celebration for the Class of 2021 at Weston Field Athletic Complex on Memorial Day, May 31, starting at 11:30am.
From Matt Sheehey, Associate VP: In response to Governor Baker's recently announced plans to end Massachusetts COVID-19 restrictions and waive the state's mask guidance for fully vaccinated people starting on Saturday, May 29, Williams returned to our traditional guidance of six guests per student for the senior ceremony. Guests attending the ceremony are attesting to the fact that they are free of COVID-19 symptoms and have not recently been in contact with someone who has tested positive for COVID-19. In addition, people who are not vaccinated or have not completed the vaccination process will be asked to wear masks outside, too, whenever social distancing isn't possible. We ask everyone who attends the event to adhere to these rules both on and off campus, out of respect and care for our community. 
Please note that for anyone who wishes to view the senior celebration, it will be live-streamed on Williams' Commencement website at commencement.williams.edu & broadcast in Williamstown on WilliNet TV, channel 1303.
Election results: JOHNSON & HASTY win Select Board; Roger Lawrence takes Planning Board; Stephen Dew wins Housing Authority
1,823 votes were cast Tuesday, May 11 at WES for a 38% voter turnout (4,855 total registered voters). Roger Lawrence defeated incumbent Susan Puddester by 18 votes for a 5 year seat on the Planning Board.  Jeff Johnson – 1141 votes to Anthony Boskovich –  642 votes for the 3 yr Select Board seat.  Wade Hasty- 990 votes to Albert Cummings 772 votes for the 1 yr Select Board seat.  Roger Lawrence – 640 votes to Susan Puddester -622 votes with Ken Kuttner – 450 votes breakout for the 5 yr seat on the Planning Board.  Stephen Dew- 958 votes to Joan Diver- 542 votes to win the Housing Authority seat.
Charles Bonenti will serve another term as Library Trustee- 1400 votes
Laila Boucher will sit on No. Berkshire Vocational School District (McCann) for 3 yrs- 1366 votes.